Attorney Profiles - Dunham & Ingram LLC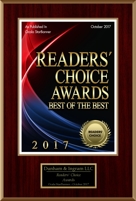 Dunham & Ingram is comprised of two of Florida's most promising and effective trial lawyers. Each of us hit the ground running after graduating law school and passing the Florida State Bar Exam, gaining invaluable years of criminal trial experience separately before joining forces. Between the two of us, we have over 20 years of courtroom experience on both sides, one of us working primarily as a prosecutor early on, and the other jumping head first in criminal defense. Our collective legal knowledge and raw skills as trial attorneys translate into a highly competitive advantage for any client choosing us as their representation.
To learn more, view our individual profiles or contact our offices today at (352) 353-8117.
Mr Dunham is hands down the best of the best he is always willing to talk and answer questions he never puts you off if any way possible would definitely recommend him thanks Mr Durham for helping me
Read more
Mr. Ingram (Andy) is hand down, the BEST lawyer I've found thus far. YEARS after hiring him (and getting the outcome we wanted), he STILL answers questions I may have. I have never been more impressed by a lawyer and their dedication. His office is 100% on top of their game and always work 5 steps ahead of you. I didn't have to worry if things were being filed or if he was going to show up to court. His fees are no where close to his value to you and your case. If you're questioning it, don't! This is definitely the guy you want to be defending you!
Read more
I have been a client with Chris and his team for several years now and my family and I truly appreciate how much he has fought for us. Chris has always had our best interest at heart and also provides honest advice, specifically in my child custody case. Chris and his team are not only extremely knowledgeable, but empathetic to the frustrations I've had to face throughout my case. Chris has even stopped what he's doing, left his office and came to where I was at to help me fight for my children. Chris has even 'checked in' with us afterhours and on weekends to make sure we were ok, and to provide me with updates on my case. I wish more families facing some (or more) child custody matters could be offered the same opportunity to have someone like Chris and his team on their team as well! Thank you!
Read more
I hired Andy when a warrant popped up for my arrest that was from a civil violation. He called me back within 20 minutes, he didn't take any money for a retainer, and with one phone call he had my charges dropped. He didn't know me from Adam and took care of my matter immediately. He is a professional, he is kind, he is compassionate and I would trust him with my life. I would recommend Dunham and Ingram for any Criminal personal injury or family law needs. He knows the law and gets to work right away for his clients. Thank you so much Andy. You gave me peace of mind and now I don't have to worry. Thanks Tom
Read more
Andy Ingram was highly professional. Kept me informed of process and progression. He went above and beyond working after hours to help my son. We are forever grateful to mr. Ingram
Read more
We retained Andy Ingram to help with a legal matter he was proficient, communicated openly and honestly and went above and beyond to provide a positive outcome. My family did not feel like just a client but someone who was truly vested in our situation. I will forever be grateful for Andy Ingram's diligent work. Thank you mr. Ingram
Read more
Attorney Andy Durham handled my case and I want to personally broadcast in short and long how he is hands down the best decision one can make when facing legal action. In short: He and his staff and professional, attentive, and caring beyond anything I have seen. Listens, prices fairly, and KEEPS IT HONEST!!! He got results. Got a complete dismissal! The long: Right before Christmas I had some run in with the law and I found myself facing criminal charges. My case as many others was not black and white and most attorneys were telling me that I should just take the plea. It sounded like a good deal especially when it was echoed by a detective and a social worker I knew. They threw in the whole "adjudication withheld" and it won't matter and just accept the punishment. But this was more. It did matter and I was being given bad advice that could have detrimental affect in the future. For me it was the premise and the spirit of the law. Mr Ingram saw that and immediately asked for relevant facts. He listened. No interruptions, no tangents, just listen to it all. He told me the reality of what I'm facing and he fought for me. I believe the law is there to protect us and that it is make to create a better society but it needs representation of facts. RELEVANT FACTS that are often not shown on paper. He took to work immediately even though I retained him after arraignment and 2 days before the next court date he immediately filed for representation and started building the defense. In the span of a week I went from potentially losing my job and risking complete familial instability to having my case COMPLETELY AND UNCONDITIONALLY DISMISSED. NO STIPULATIONS. NO FEES. NO PREREQUISITES! Beyond a doubt the LITERAL best outcome is what he won when all others I consulted did not even want to try. I can honestly say I will never look elsewhere for legal help. He and his firm has earned my loyalty and my trust. The reviews are real. This attorney is the real deal. I work with attorneys in my line of work daily and I don't see this level of personal commitment from most. You can consult around and waste your time like I did to get peace of mind but take mine and all the other reviews to heart when I say you will not regret hiring Mr Ingram
Read more
These are great people very caring.. it's been awhile since I've used their service's but Chris called me right back when I had a question about one of the legal issues he worked on for me and its been like that everytime I had a question its a comfort knowing that they will help even when your case is closed. Highly recommend them!
Read more
Mr.Andy was a pleasure to work with. He was able to lead my case to my desired outcome. I would highly recommend!
Read more
Free Google Reviews widget