Attorney Profiles - Dunham & Ingram LLC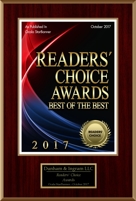 Dunham & Ingram is comprised of two of Florida's most promising and effective trial lawyers. Each of us hit the ground running after graduating law school and passing the Florida State Bar Exam, gaining invaluable years of criminal trial experience separately before joining forces. Between the two of us, we have over 20 years of courtroom experience on both sides, one of us working primarily as a prosecutor early on, and the other jumping head first in criminal defense. Our collective legal knowledge and raw skills as trial attorneys translate into a highly competitive advantage for any client choosing us as their representation.
To learn more, view our individual profiles or contact our offices today at (352) 353-8117.